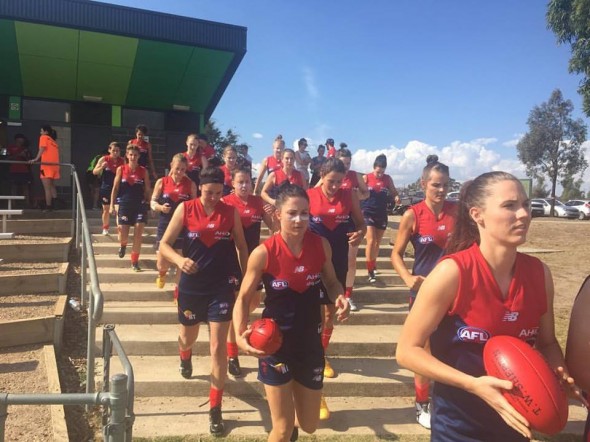 AFL father-daughter rule needs to happen
File this one under the rare "fantastic ideas and initiatives" tab in the big file cabinet at AFL headquarters – the league is considering instilling a 'father-daughter rule' for the upcoming National Women's AFL competition.
It's been a while since the AFL has floated something so appealing.
Probably since the first discussion of the women's league itself, to be honest.
AFL CEO Gillon McLachlan said this week the father-daughter concept had already crossed his mind as the league puts the rules for the women's comp in place.
Currently, AFL teams have the inside running for players whose father's have played 100 games for the club, thanks to a bidding process.
While the logistics would take some working out, and licences have yet to be awarded for the inaugural season, it would be a brilliant prospect for the new league.
The key for the opening years of the women's league is gaining the respect and following of AFL fans.
Supporters already don't need much convincing; ratings for last year's Bulldogs Demons game were through the roof, while the sport is gaining momentum.
Women's footy is already being spoke about in the same breath as the men's game, and viewed in the same fashion, not in a throwaway "awww, aren't they cute," way.
Women's sport is experiencing an unprecedented of wave of public sentiment, with the Women's Big Bash League and the Matildas Olympic qualifying season prime examples of how female athletes are now seen as peers to the men, not a novelty sideshow.
Female footy players have done an exceptional job of repaying the AFL's support, by simply being very good at what they do.
To capitalise on the wave of popularity, women's AFL needs to be treated in the same way as the men's game – it's crucial that separation and differences between the two leagues are kept to an absolute minimum.
This will ensure the fans take the sport as seriously as the players for the league to have longevity, visibility, and financial viability.
Concepts such as father-daughter will have a huge say in its credibility.
The rule would instil tradition, and give fans an extra reason to follow a team, thanks to the romance and nostalgia factors.
It would also inspire more girls to take up the game, knowing they could follow in their father's footsteps.
If the league is as successful as everyone knows it can be, then the rule would also play a hand in creating franchises, supporter ties, and history.
How great would it be to see mother-daughter draft picks in 25 years time?
(Article originally appeared on Women's World of Sport)