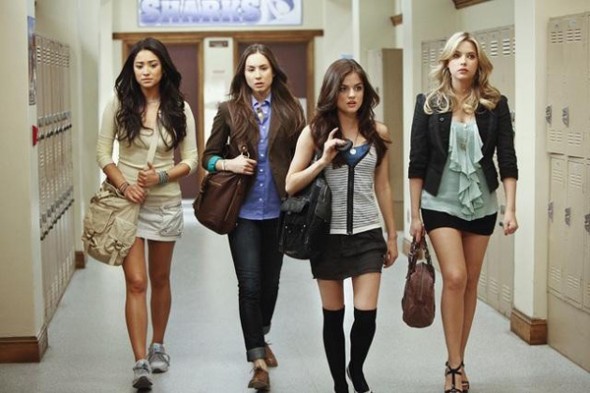 Why you should be watching Pretty Little Liars
Lean in a little closer, nerds. I'm going to let you in on the best-kept secret in TV.
Well, that's not entirely true. Pretty Little Liars can hardly be considered a secret when more than 1.5 million tweets about the show are sent every episode.
The secret part is just how good it is. It's not a guilty pleasure show – it's a damn fantastic show in its own right. It burns me that a lot of people aren't watching PLL because they're put off by the four female leads and perceived teenage soap opera-ness of the show when really, it's more Twin Peaks than Gossip Girl.
It's incredibly well written, smart, scary, dark, funny, and addictive.
The series returns for the back half of season four this week, so if you get going now, you'll have around three months to catch up in time to watch the current season finale. As someone who once watched ten episodes in one day, that's more than enough time to rip through the first three seasons.
To kick you off: a 15-year-old girl goes missing and is assumed murdered. A year after the anniversary of her disappearance, her four best friends suddenly find themselves being tortured and tormented by a psychopath who goes only by the moniker of "A".
Here are seven reasons you should be watching PLL. Vague semi-spoilers abound.
The literary references
One of the best aspects of Pretty Little Liars is that it can be enjoyed on so many different levels. It's like The Simpsons – 12-year-old girls worship the show in a totally different way that a 27-year-old bookworm like me worships it.
In addition to the regular book references dropped by my girl Spencer, here are a couple of the (many) highlights:
–       The theme of older men attempting to manipulate younger women is an under current throughout the show, echoing the themes of Lolita. Central character Alison, who allegedly had an affair with an older man, names Lolita as her favourite book and creates an alter ego named Vivian Darkbloom.
–       One of the main families has the surname 'Montgomery' – where Atticus Finch studied law in To Kill A Mockingbird – while the local sanitarium is named Radley, after the novel's seldom-seen but prominent character.
–       Students read The Heart is a Lonely Hunter in class, and Paige McCullers, a character that will ride her pushbike all the way into the depths of your soul, bears the surname of the author.
–       One of the characters makes a deal with the Big Bad as a sacrifice to gain knowledge. She's assigned the task of kidnapping a child and taking him to a PUPPET SHOW BASED ON THE STORY OF FAUST.
–       The same character faces a stint in the aforementioned Radley Sanitarium, requests a book to read and is given Franny and Zooey.
–       English teacher Ezra Fitz is really named Fitzgerald, while students at Rosewood High study The Great Gatsby.
(And how's this for another Gatsby reference, hanging in the background of a scene in which A texts the girls to remind them they're being watched.)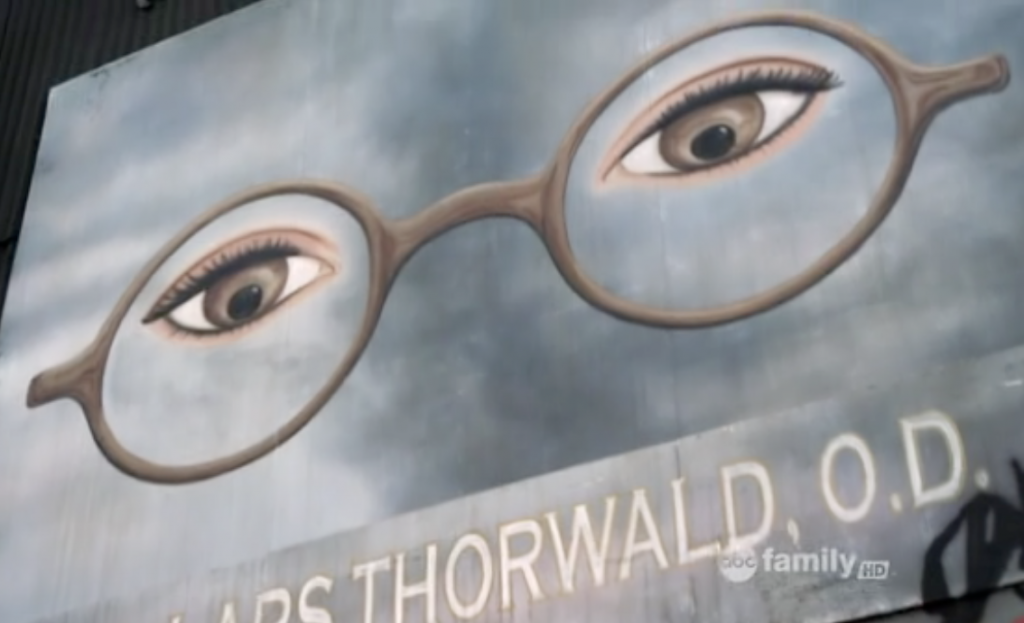 The Hitchcock homages
PLL is essentially one big love letter to the films of Alfred Hitchcock, from the style of direction and story telling, to shot for shot re-creation, to a few subtle nods.
The Bates-iest motel this side of the show Bates Motel is the setting for some of the most pivotal scenes of the second season – complete with its own Psycho shower.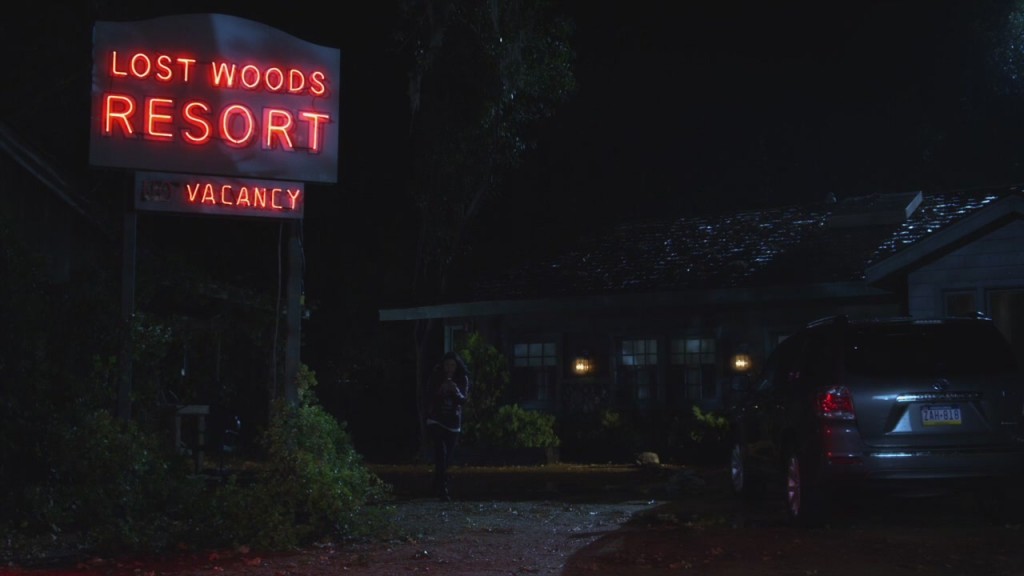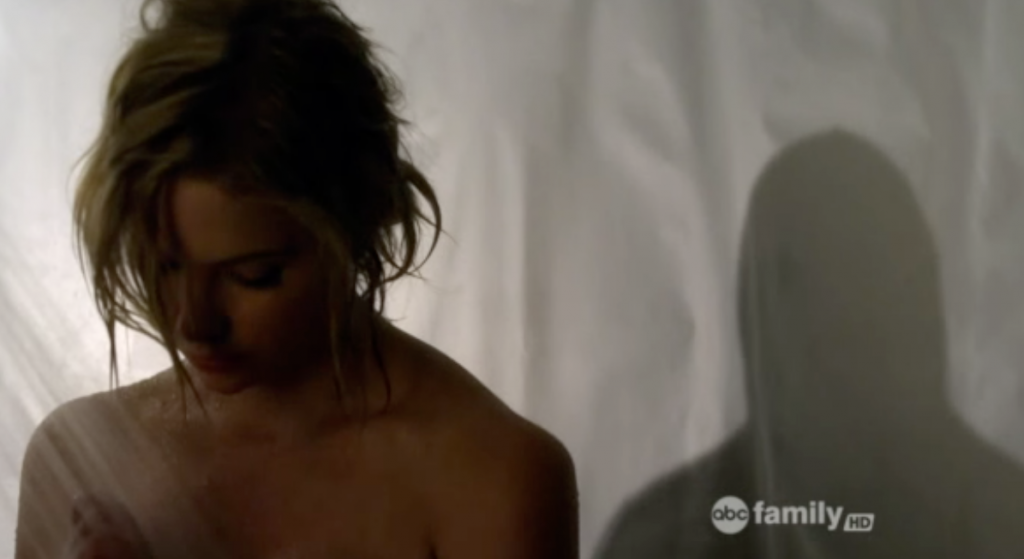 Speaking of Pyscho, watch closely when "A" is revealed at the end of the second season, because you'll see a gorgeous shot of the offender framed almost exactly like this: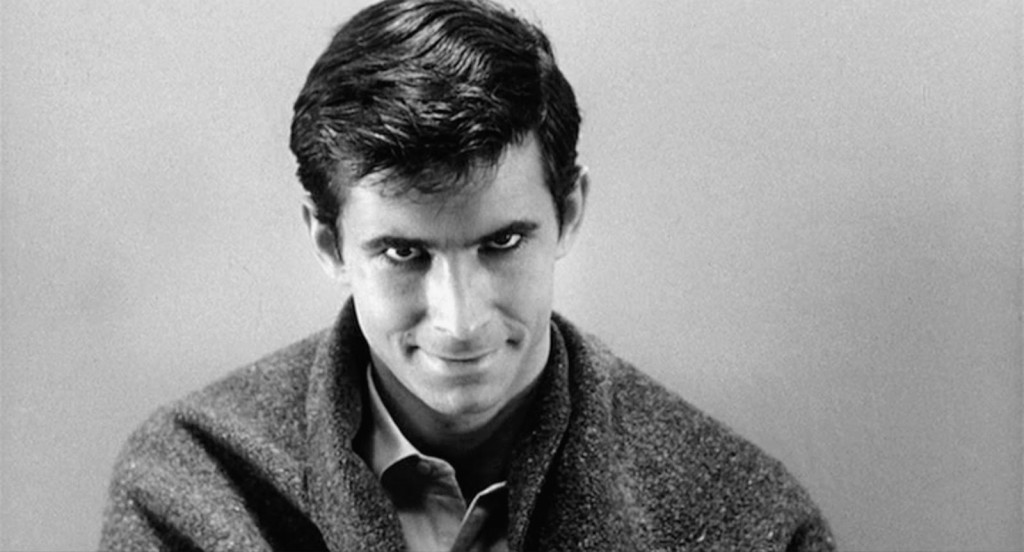 Then there's the lighter embossed with a compass pointing prominently to North West (as in, North By):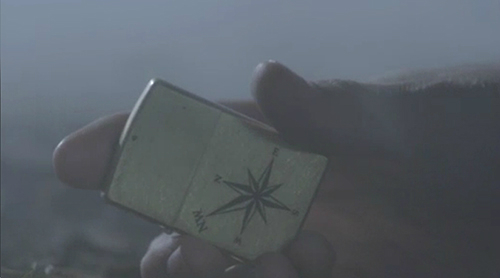 And a local coffee shop named "The Rear Window Brew":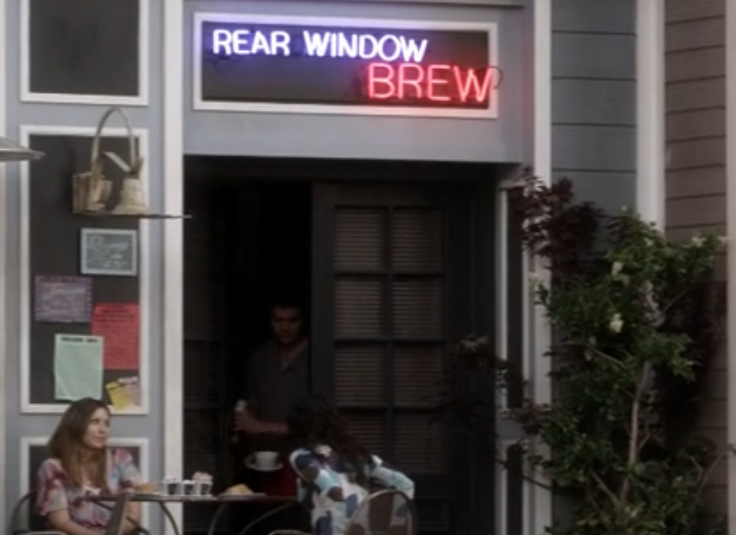 Not to mention a clue-dropping pet bird named "Tippi":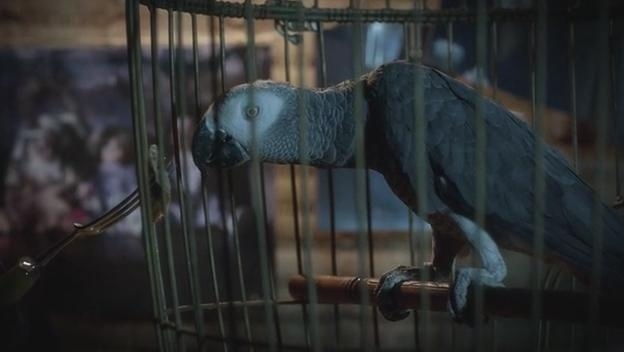 The fashion 
All you really need to know is that the girls wear things that look like this to school.
ABC Family also does a really cool thing where the costume designer walks you through the styles of each episode every week. You can check an example here.
The sheer outrageousness
Broken down to its bare bones, it's show about four teenage girls dealing with the fallout of the murder of their best friend, while being stalked by the person who may or may not have killed her. Go a layer further and you have stabby stalker ex-boyfriends, fake pregnancies, murdereous step-mothers and a lesbian love story that began when one literally tried to drown the other before  metaphorically drowning her with love. Inception this business just a little deeper and said murdered girl may or may not be still alive and bending the space time continuum while running around town wearing a mask of her own face.
Through all this, PLL is a show that works because it doesn't take itself too seriously. It knows exactly what it wants to be and where it's going, and absolutely nails its tone. It's a show very comfortable in its own skin. Viewers go along for the ride and believe anything it throws up at us because it's built on continuity, character development and such a grounded and well-drawn universe.
Ultimately, we trust in the people who run the show that they know exactly the right direction to take it – which leads us into…
The twists
No other show (aside from probably Game of Thrones) has made me stand up and scream WHHHAAAAATTT as often as PLL. I've lost count of the amount of times I've had to hit pause to walk around my apartment to process what just happened. I once even walked out of my lounge room, down the stairs, out the front door and into the street mid-episode, in order to calm myself down.
I've stopped trying to predict where it's going and given up on creating theories – now I just sit back and let myself be surprised. And man, it never disappoints.
The acting
It's not often that you could say of the best aspects of a "teen" show is the acting, but that's the case here. The four lead actresses have grown so comfortable in their roles and their abilities, while managing to avoid kicking into autopilot. It's a travesty that Troian Bellisario wasn't nominated for any major awards for her performance in season three.
The show that keeps on giving
Pretty Little Liars isn't confined to a 45 minute experience – it's almost a weeklong event, once you factor in the tweets, recaps, tumblr/blog posts and gifs.
PLL utilizes social media like no other show, and the cast and crew are all in on it. The actors and writers are insanely accessible on Twitter and Instagram, responding to fans, holding Q and A sessions and sending out tons of behind the scenes photos and information.
But it's in the days after the show where I really enjoy it the most, thanks to the insanely fantastic recaps.
My go to re-capper is After Ellen's Heather Hogan, who outdoes herself every week with hundreds of words of pure genius. Hilarious but heartfelt, when you've finished reading you'll feel like you just finished playing with a bunch of puppies – buzzed, but super sad the experience is over. (If you're going to watch the show from the start, it's worth reading her recaps from the first episode too, to get in on the ground floor of the in-jokes).
Jacob Clifton at TWOP is another writer whose left-of-centre recaps are consistently brilliant, Pretty Little Annotations is also well worth your while, and Mean Girls fans (i.e. everyone) will love this.
Drop what you're doing and get started.