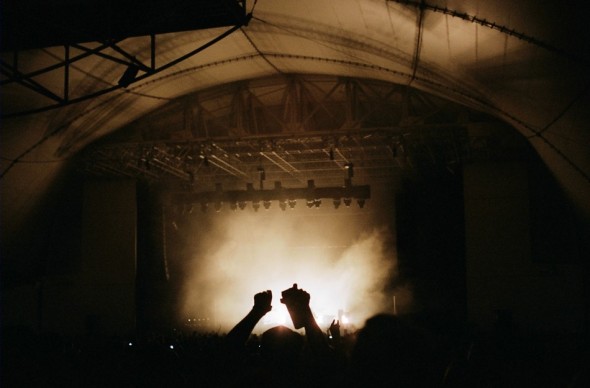 Review: Iron & Wine at The Forum
An extended version of my review of the Iron & Wine show at The Forum in Melbourne for Tone Deaf.
All you really need to know about Iron & Wine's Sam Beam is that he has more than a way with words – he has a gift for taking you to a place and a time; a way of plucking you up to stand alongside him in a scene that's a world away but somehow still incredibly familiar.
Beam just plain understands the ghosts that sit underneath our skin. He's spent over a decade assigning lines and notes and sounds to something we don't quite know how to say ourselves.
He's all heartfelt eloquence and hushed confidence, full of restraint, and soft, and calm – only letting the intensity that sits below the surface peek through just enough.
Much like Bon Iver's Justin Vernon, Beam has driven Iron & Wine from a solo moniker to something bigger and bolder and brighter than even he probably never fathomed.
The days of albums recorded in small dusty rooms with nothing but a guitar have given way to jazz-fused flourishes and a bluesy-ness delivered by the hands of a five-piece, and occasionally (though not this time), a twelve-piece band.
Which means an Iron & Wine show really happens in two parts.
There are the songs that beg for an open fire and the smell of rain and trees; then songs that shimmer and shine – the ones that lift you onto your toes, and lift the weight from your chest.
But we'll get to that soon.
First, the soaking wet, thick, grey Melbourne night began with Victorian up and comer D.D Dumbo (aka Oliver Perry) – a one man show full of looping drum beats, textures, and dense layers of quirky pop.
Triple J favourite "Tropical Islands", with its Grizzly Bear vibe and rise-and-fall vocals, wasn't his closer, but still stitched a nice thread between the opening and main acts.
When Iron & Wine stepped on stage to begin their close to 100-minute set, Beam seemed as appreciative and in awe of the crowd as it was of him.
"You guys are so well behaved. All I can see are smiling faces. This is great!" he said, before hitting the opening notes of "Woman King" to start the show.
They quickly kicked into "Sunset Soon Forgotten" – originally recorded as a solo acoustic track, but now transformed into a rolling full band jam.
It set the standard for the night.
Every song was given a twist, be it just a hint – with varied pacing or sung slightly off the usual beats and inflections – or via a full reinvention.
Another reworked version of an early song, "Boy With A Coin", followed, and though it came without the handclaps found on the original recording making it a little less of a stomper, it still hit a soft and sweet note.
The early part of the set managed to be simultaneously soaring and intricate, but it wasn't until Beam gave his band mates a break and picked up his acoustic that the show really started to spark and crackle.
With his early work characterized by the folky slow strum of a guitar, Beam sings what could be categorized as love songs – but not in the same way we've come to know.
Sure, we've all made a terrible mess of falling in love at some stage, but that's not what holds us captive when we hear Iron & Wine. These aren't songs about romantic love – they're love songs dedicated to life, to making sense of the here-and-now of it all.
Beam called for requests from the crowd: they came shyly and quietly at first, but then flowed freely throughout the 30-ish minute solo portion.
He first settled for "The Trapeze Swinger" – a track, he recounted, that was written nearby in a hotel room in Melbourne.
Through the seven minutes of the song – about confronting mortality and the fear of loss – he held the crowd captive, enchanted, to the point where he joked "shhhhhh" during a lyrical break.
"Southern Anthem" and "Sodom, South Georgia" also featured in the Beam-only set, which concluded with "Such Great Heights" – a Postal Service cover that he's made his own.
Then it was back to full band, and newer, rootsy Americana material, such as the poppy-but-nostalgic "Tree By The River" and the dirge-y "Grace For Saints and Ramblers".
And despite what his lyrically heavy subject matter suggests, Beam is a delightful, light and surprisingly funny presence on stage.
("This song's called "A Stranger Laid Beside Me". You all know what that's like," he quipped.)
("You've all got great taste in music," he laughed, as people shouted their requests.)
Though the sound of the new, full band songs is admirably precise, at times it could be accused of bordering on lounge music, bar for Beam's voice – my gosh, that voice. That's what sets Iron & Wine deep in your bones.
It was his voice that ended the show, with Beam solo on stage once again for a completely instrument-free version of "Flightless Bird, American Mouth".
It was so quiet and still inside the Forum, at one moment you could have sworn you could hear the trams racing by on Flinders Street.
He held a guitar but never touched it, and pushed his voice to its highest place in an unforgettable closer.
That's the thing about Sam Beam.
He gives us little gifts – something to carry with us in our coat pockets to keep us warm on rainy nights.