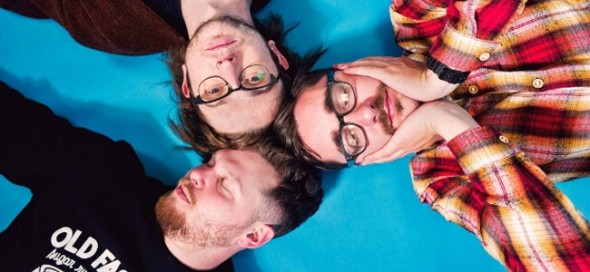 Alt-J On 'This Is All Yours'
It's a rare thing, to hear the theme of freedom to flowing through a band's second album.
The second record, after all, is meant to be the difficult one. The one where the band struggles and combusts under the weight of expectation, burdened with the desire to please fans, critics, and labels alike.
But on alt j's This Is All Yours, it's an overwhelmingly present sentiment. A lack of restriction seeps into everything from song titles to lyrics to the almost-audacious three-song introduction that spans 14 minutes.
Three of the song titles on the record reference the Japanese city of Nara, where wild deer roam at will in a huge public park.
Keyboardist/vocalist Gus Unger-Hamilton says the band used the city as a metaphor for the freedom that comes with a creative process, and that idea is overt in alt-J's music.
They throw absolutely everything into This Is All Yours, creating a densely layered, expansive, and off-kilter universe.
The opening stages of the record are characterized by minimal vocals, looping synths, and soft piano, before release comes in the form of moody "Every Other Freckle" and the jaunty, jangly "Left Hand Free" with its Led Zeppelin-ish riffs.
It mirrors the pattern set by 2012's An Awesome Wave, and while Unger-Hamilton admits the tactic might be a bit of a risk – and certainly unusual – it's clear that alt-J have always been about doing things their way.
"We had this theory with the first album, where if you can get past the beginning of the album, which is quite challenging, then you're rewarded," he says.
"I suppose you want to bewitch people, and get them into the right frame of mind for listening to the album, so that's what we tried to do with the opening songs. As long as we continue to make albums, we want people to listen to them in the order they're presented in," he explains.
"It's like writing a book or a film."
The film comparison is an entirely apt one.
This Is All Yours is incredibly cinematic, and almost plays like a film score or a soundtrack. It's no surprise Unger-Hamilton singles out composer Philip Glass as a big influence.
"Between albums we did write a film score for an indie film [2013's Leave To Remain], so we did about 45 minutes of original music and some of that stuff made its way onto this album, in a different form," he says.
"That experience definitely taught us a new way to write music – we didn't have to worry about things being three minutes long and hooky."
There are less subtle film references to be found on This Is All Yours, mostly via "The Gospel Of John Hurt", named for the actor best known for the 'birthing' scene in Alien.
Writer Iris Murdoch also gets a nod, with the title and some lyrics of folkish-ballad "Warm Foothills", (which features Connor Oberst and Lianne La Havas) lifted from a biography on the author.
Pop culture, and in particular, literary references, also abounded on An Awesome Wave. Buried in the first album were shout outs to Where the Wild Things Are ("Breezeblocks"), and the classic novel Last Exit To Brooklyn ("Fitzpleasure").
This Is All Yours sees the band take this a step further, and reference themselves – "Bloodflood Part II" takes its name and melody from a track on An Awesome Wave and features lyrics from live favourite "Fitzpleasure".
It's a companion piece to the original song, but wider in scope – a reprisal of sorts. It's also a knowing nod to the first album; a move that signals they're not running from first record, or scared of being compared to everything that came before.
"The main aim was for the making of this album to be as similar to the first one as possible," Unger-Hamilton recalls.
"We wanted to get back to that state of innocence we had with the first album, where we were just a couple of guys hanging out writing songs, enjoying each others company.
"The main thing was that we were happy, and that we were enjoying being a band," he says, lightly alluding to the departure of former band mate Gwil Sainsbury at the start of the year, who split from alt-J amicably when it was clear he was unhappy with the lifestyle.
Ultimately, This Is All Yours sounds like a band comfortable in its own skin.
In a time where success is often measured by iTunes single sales and YouTube plays, it's something of a novelty for a band to present a complete album, rather than a set of sounds.
This Is All Yours isn't just a record – it's a 50-minute experience, made for a quiet comfy space and a set of headphones (aside from the aforementioned "Left Hand Free", which is entirely a volume-up, windows-down affair).
Sure, the big songs are still there. Pulsing sonar beats kick off "Hunger of the Pine" before it twists into a slow electronic march, while "Every Other Freckle" is the closest thing we get to their breakout hit "Breezeblocks", with its crisp "heys" and mumbling lyrics of obsessive desire.
But all up, each track forms a small part of a whole; a brick stacked in place for a final product.
alt-J are the masters of the slow burn. They manage to fill the spaces between the seconds, not wasting a single note. They give us little flashes and instances – moments to keep coming back to, and holding out for, such as the "do you really think that you can stomach me?" chant in "Every Other Freckle" or the Middle Eastern breakdown on "Intro" that echoes the Celtic-inspired solo of An Awesome Wave's "Taro".
It's their awareness of this skill, and of their success, that bred the confidence of This Is All Yours.
"We're all 100 percent rock solid in our belief in the album," Unger-Hamilton says, while also admitting that finishing the record came with an overwhelming sense of relief.
"We don't have to think about album three for a really long time now, and that's really good," he says.
The completion of album number two means the beginning of a new touring cycle, with Australia one of the first places in the world to hear This Is All Yours live.
Any doubts alt-J might have had about retaining their fan base following the release of the new record are now surely allayed – the band played two shows in Sydney and Melbourne earlier this month that sold out within minutes.
"Australia is arguably our best fan base in the world, I think," muses Unger-Hamilton
"We came over here for the first time two years ago, and none of us had been to Australia in our lives, and we were suddenly presented with sold out shows – small clubs, but fans that were just going mad for it. And it was like, 'Fuck, we have huge fans here, and we're as far from home as we possibly could be on Earth', and we've never really gotten over that."
This Is All Yours is a dense and complex album, filled with tricky loops and walls of sound, and Unger-Hamilton says the band spent around a month rehearsing and perfecting the new songs in a London studio.
"It was both rehearsing and working on the technical side of it – programming, getting all the right sounds, the keyboards, and the samples, and making everything sound ship-shape," he recalls.
"That was a lot of work, and I'd say it was harder and more grueling than making the album."
The band's diligence in the rehearsal studio more than pays off – their live show has become something of a sonic business card for the trio, with alt-J lauded around the world for their sharp and soaring stage performances.
Those that missed out on the most recent shows only have to wait a few months for a chance to catch them again – alt-J will return to Australia over New Years for the Falls and Southbound Festivals.
"You have to approach playing a festival differently, because you don't have a captive audience," Unger-Hamilton says.
"People can wander off, or if they get bored they can go watch somebody else, so you have to really work hard to keep people's attention."
He says creating a set list that combines the best of An Awesome Wave and This Is All Yours proved surprisingly easy task.
"Without realising it, there was a lot we had to play from the first album, and that's fine, we're good with that – we know how to play those songs well, so in a way, that was half our work done," he says
And despite acquiring the ability to play monster tune "Breezeblocks" in their sleep over the past 24 months, it still holds plenty of allure for the band.
"I've taken to doing a shot of whisky before we play 'Breezeblocks', which is kind of my only rock and roll excess, so that gets me in the mood to play it. As much as we've played it hundreds of times, the fans love it as a song and go wild for it, so that gives you the energy," Unger-Hamilton says.
"A song that gets a response like that, you could play your whole life and not get sick of it."