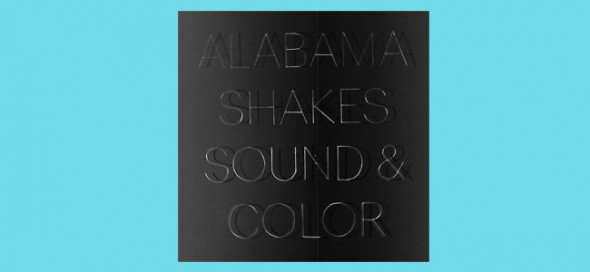 The Five Things You Need To Know About The New Alabama Shakes Record
Since the release of the Athens, Alabama group's critically acclaimed 2012 album Boys & Girls, Albama Shakes the band have been nominated for a Brit and Q Award, contributed music to the Oscar-winning films Twelve Years A Slave, Dallas Buyers Club and Silver Linings Playbook, performed at The White House alongside Mavis Staples and Justin Timberlake for Barack and Michelle Obama, and become one of the most celebrated live acts in the world having delivered unforgettable performances everywhere from Jools Holland to the main stages of festivals including Big Day Out and Glastonbury.
Their new release Sound & Color demonstrates the tremendous strides made by a group of twenty-something musicians who had only been playing together for a few months when they recorded their first album.
Brittany Howard continues to be The Coolest
There's not a current musician – man or woman – that exudes the same level of effortless swagger as the Alabama Shakes singer/guitarist.
Howard proves that you don't need manic dance moves to have a presence – she lets her voice do the talking. Or rather, in this situation, the singing.
She knows when to be restrained, and knows when to let it rip and fill the room.
Brittany Howard sings as though every time she opens her mouth, it's going to be the last thing she'll ever say, so it's damn well going to count.
Her voice is simultaneously honey and smoke – there are no tricks or shortcuts; just pure talent.
And as much as a band is more than its singer, it's Howard that drives the sound of Alabama Shakes.
The rise of Mumford and Sons spawned 100 sound-a-like bands.
Howard is the number one reason why we haven't been subjected to a dozen Alabama Shakes clones. No one is brave enough to even try and follow her lead, because no one could ever come close.
Sound & Color is not Boys & Girls Part II
Alabama Shakes are very, very good at what they do, and Sound & Color harnesses that confidence. As was the case on their debut, they sound like a band that knows just how talented they are, and know what to do with that talent without tipping over into arrogance.
The catchy, bluesy guitar hooks are less present on Sound & Color, with the band finding a different layer of sound to tie it all together.
Subtly stitched in to the spaces, weaved amongst the bluesy Black Keys-style guitars is something a little different each time.
See: the hint of strings on winding 'Guess Who', the soft electro synth beats found in the Gospel inspired closer 'Over My Head', or the almost-ukulele cruise of 'This Feeling'.
While some songs drift into familiarity – 'Future People' and its Kings of Leon-ish riff and the ballad 'Miss You' are pure, classic Alabama Shakes – for the most part, the band essentially try on a bunch of different hats and sound smokin' hot in every single one.
Boys & Girls was the sound of a Saturday afternoon on the porch that rolls right on into a Saturday night in the summertime.
Sound & Color is a collection of songs for a Sunday morning – languid and expansive.
Sound & Color is more challenging than its predecessor
But that's definitely not a bad thing.
While Boys & Girls was the kind of record that could be played 10 times in a row from the very first listen, Sound & Color takes a little more work, and it's all the more rewarding.
Their first album, while incredible, tended to be too focused on the one sound, and at times stagnant in tempo.
The songs on Sound & Color are the kind of tracks that take their time to breathe and stretch their legs, to find the right spot without forcing it.
The patience of the record is most prevalent in the warped six and half minute march of 'Gemini', which ambles over a steady baseline, stretches into a fuzzy guitar solo and never quite breaks open.
Sound & Color isn't immediate – but there's something new to be found with every listen.
It's going to make for one hell of a live show
While much of the appeal of seeing Alabama Shakes live lies purely in Howard's astonishing voice, the band's musicianship is equally impressive.
The texture found in the new songs is only going to enhance the richness of the band's gigs.
And although this album has it's fair share of slower moments, Alabama Shakes remain a band that's rollicking, spirited, and just plain fun to listen to.
The urgent, restless lead single 'Don't Wanna Fight' and the garage band rock jam 'The Greatest' are ready and waiting to whip up a frenzy.
You'll find yourself looking up plane tickets to the Deep South
Most bands make music that's not distinct or specific to a location. Technology (ie the Internet) has made it easier than ever to make and share music.
Anyone with a computer (and talent, although that's debatable) can make a record and share it with the world, but Alabama Shakes have created a sound that's tied to a place.
The best records have a way of bringing you into the moment with them.
Like the way Bon Iver's For Emma, Forever Ago makes you feel like you're holed up in that Wisconsin cabin too, or how a Dropkick Murphy's album makes you pine for a pint on St Patrick's Day, Sound & Color transports the listener right into the streets of Alabama.
You can just imagine you're in the back room of a dive bar, leaning on a wooden stool with a drink in hand as the sound churns and rolls around you.
Alabama Shakes have brought the sound of the South to the mainstream, and will have you craving more of the same.