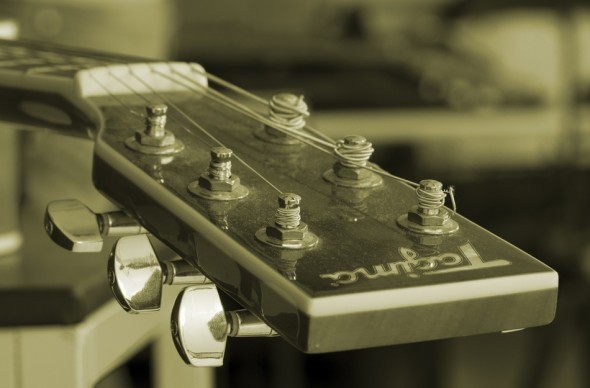 The Eight Best Moments From alt-J's Melbourne Show
alt J's live show has always been their sonic calling card, and on Sunday night at Melbourne's Rod Laver Arena, they knocked it out of the park once again.
The lighting effects
After playing their first Melbourne show at Ding Dong Lounge just two and a half years ago before stepping up to Festival Hall in July 2013, there were doubts over whether alt J's moody vibes would suit the massive expanse of Rod Laver Arena. Within seconds, it was clear the jump to the biggest venue in town was worth it for the luxuries of the light show alone.
It's strange to think that lights provided one of the highlights of what was a damn fine rock show, but the visual trickery wasn't an overshadowing presence – more like a complementary one. The band was often bathed in darkness save for a spotlights, giving off an eerie feel (that also conjured up call backs to Spinal Tap's classic appearance on The Simpsons), while on-theme shapes and colours danced, spun and swum in time with the beat across a giant LED backdrop.
While they may not have been able to fill Rod Laver with people (around a third of the nosebleed seats were blocked off and blacked out), alt J definitely filled every inch of available space with their sound and special effects.
The beat drop 27 seconds into 'Fitzpleasure'
After opening with 'Hunger of the Pine', from second record This Is All Yours, alt J kicked off a run of songs from their back catalogue with the booming fan favourite 'Fitzpleasure', which instantly lifted the crowd from its late Sunday night slumber.
Beginning with dense, multi-layered a Capella chanting, the song explodes into a wonky, warped, and just plain weird bass driven jam that's packed with equal parts tension and moments of relief.
It was the perfect example of their ability to be precise and polished, while also letting loose.
The group harmonies
It wasn't just 'Fitzpleasure' where the band showcased their knack for haunting harmonies. Often, the three voices of keyboardist Gus Unger-Hamilton, guitarist/lead vocalist Joe Newman, and new bass player Cameron Knight, were the sole focus and they absolutely crushed it.
Unger-Hamilton was charged with talking to the crowd but kept banter to an absolute minimum. His speaking voice is so different from his singing voice, it's almost as if he's an actor playing a character in each song. While Newman didn't utter a word, you can imagine it's much the same for him, with his impeccably strange singing voice soaring faultlessly across tricky lyrics and keys.
'Interlude 1 (Ripe and Ruin)' into 'Tessellate'
'Interlude 1 (Ripe and Ruin)' was where they were really able to show off the harmonies mentioned above. Guitar riffs, piano hooks, and driving drums are the solid staples of alt J's music, but it's their off-kilter vocals that really set them apart.
The song saw Unger-Hamilton and Newman lit in dim white lights amid an otherwise black stage, armed with only themselves as they rolled over the repeating, non sequitur lyrics.
On 2012's An Awesome Wave, 'Tessellate' comes straight after 'Interlude', and also followed directly during their previous live shows, so while the crowd knew what was coming next, it didn't dim the raucous reaction the menacing opening piano bar received.
The tunes pair up perfectly, so it's little wonder they continue to bleed them one into the other. 'Tessellate' continues to be one of alt J's best live songs, despite its slightly abnormal timing. It's the anti-'Fitzpleasure', ramping the tension to 11 while never really breaking wide apart.
'Left Hand Free'
While touring An Awesome Wave, alt-J cultivated a tight set that essentially saw them play the album track by track in order. With a second album under their belt, it was interesting to see them weave the newer songs into the mix.
'Left Hand Free' isn't like anything that came before or after it, with its Led-Zeppelin like riff and 70's rock grooves. But, they managed to make sure it wasn't out of place at all, ramping up the eccentric jangly guitar to another level to make it the focus of the song.
Whenever drummer Thom Green's snare drum got involved
alt J's music is both driven and anchored by sharp drumming, and Thom Green was best on ground for the night.
While all of his drumming is sensational, it's the snap and pop of his steady snare drum that beats its way into your chest every damn time.
'Warm Foothills'
Along with 'Matilda', the folky rustic ballad 'Warm Foothills' made for one of the quieter moments, but was certainly no less arresting.
The loopy, plucky acoustic guitar like something that's more likely to be found on a Mumford & Sons record, but alongside alt J's electronic elements, it made for a nicely timed breather towards the end of the set.
'Breezeblocks'
It's a cliché to suggest that a band's biggest hit was one of the moments of the night, but 'Breezeblocks' is a song that has legs. Tone Deaf interviewed Unger-Hamilton late last year, and when asked about the repetition of performing the tune, said: "A song that gets a response like that, you could play your whole life and not get sick of it."
It was easy to identify with his comments. After a slightly lacklustre encore (the band decided to play its bigger hits earlier in the night), fans were practically climbing the walls at the sound of the first note as the energy in the arena suddenly lifted 45 notches and the crowd ended the night belting out the entirely appropriate "please don't go, please don't go, I love you so, I love you so" refrain.