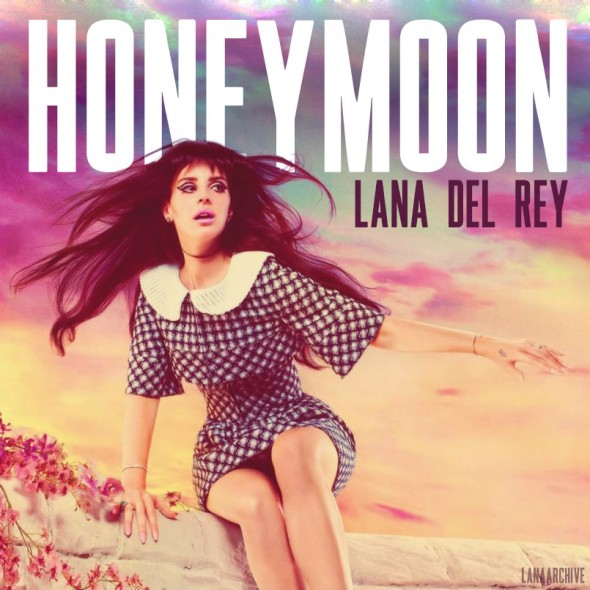 A review of Lana Del Rey's 'Honeymoon'
If there's one thing to be said about Honeymoon, the third album from living, breathing Instagram post Lana Del Rey, it's that she has her brand absolutely on lock.
In the world of carousel pop music where each new thing sounds the same as the one that preceded it, Del Rey is staggeringly self-assured.
The problem is, she's so deep into her deal, so confident in her direction, that she can't help but sound exactly like herself. On every. Single. Song. So ultimately is it a hit, or is it shit? We dissected the 14 track release to find out.
Hit
Del Rey's self awareness. She knows what works for her, she knows what sounds good, and she sticks to it. Del Rey is clearly aware of the backlash and criticism to her music, and addresses it straight up in album opener 'Honeymoon' with the lyric "We both know it's not fashionable to love me". She also borrows from the legendary Nina Simone, with an on-the-nose cover of 'Don't Let Me Be Misunderstood'.
Even the album's name of Honeymoon nails the vibe. Honeymoons are a dreamy haze; soft and slow, a fleetingly perfect moment in time. Del Rey's game is creating nostalgia for the present, and she's a seasoned pro.
Shit
Honeymoon sees us arrive at Peak Lana, so much so that at times you could be forgiven for thinking it's a parody album. It's ultimately too polished, too calculated, and too refined.
The album is epically haunting, but simultaneously sleepy and sluggish.
A film noir for the ears, the early tracks build and lift like an old Hollywood film score, transporting you to in their world.
But as a whole, Honeymoon is unfortunately one-paced, and brings on fatigue after only a handful of spins.
Hit
Del Rey's voice sounds the best it's ever been. It's a breathy, sultry sigh, and she's fully in control of her greatest weapon. She's long been touted as the Facebook generation's Nancy Sinatra, and she continues to live up to the tag, showing what she can do without going over the top.
The rolling, wandering melodies of 'Freak' best highlight the otherwise untapped variety in her singing style.
Hit
'God Knows I Tried' and 'Honeymoon' are the two standout tracks from the album, with the stripped back, twangy guitar of 'God Knows I Tried' evoking the aforementioned Sinatra's 'Bang Bang'. The tune sounds like it would be right at home in the closing credits of a Tarantino Western, and is one of the few songs that doesn't feel as though it's overstaying its welcome.
The song 'Honeymoon' is a 1950's drawl, a convertible car ride through the hills of Los Angeles, and tells you everything you need to know about Lana Del Rey in its opening minute.
Shit
The record, while grand and haunting, is also monotonous and repetitive in both its music and lyrics.
Second track 'Music To Watch Boys To' starts promisingly with understated soft flute, but is ultimately ruined by the continued refrain of "I like you a lot", which grates after the first chorus. It's symptomatic of the album. At first listen, it's nice, after a second, it's irksome.
'Salvatore' and 'High By The Beach' find themselves in the same boat, with non-sequitur, bordering-on-silly lyrics sanding off the edges of what could otherwise be sharp sounds. (See: "catch me if you can, working on my tan" and "la la la la la, soft ice cream". Yep, for real.)
Verdict: Shit
The tone of Honeymoon is incredibly even, but that's no compliment – there's a distinct lack of standout tracks; no songs that have you reaching for repeat.
While Honeymoon is romantically melancholic, it lacks spark or fizz, simply meandering through its 14 tracks.
Lana lovers will hook Honeymoon to their veins and spend the summer chasing the high of the first listen. Lana detractors who attempt a spin should prepare for solid eye rolling sesh.